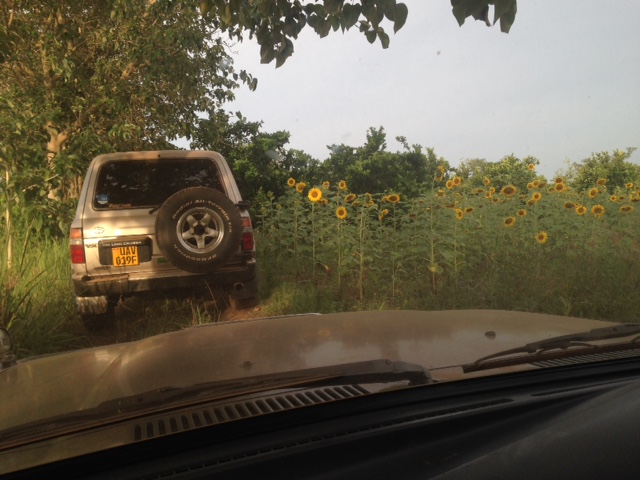 Today we visited Ojolai village which is occupied by 500 people and has a small community school. We were able to spend a day with the community experiencing what it is like to live without access to clean and safe drinking water.
At 6am we hit the road to get to the village, many of the roads were single-track so we eventually arrived at 7:30am.
When we arrived at the village we split into smaller groups so that we could interact with the families in the village and observe the villagers doing their usual daily activities without causing too much disruption.
My group went to spend some time with Anne, her grandson and his wife.
We were supported by two translators from the village: Moses and his wife Conse who were invaluable in enabling us to speak to Anne and her family. Anne couldn't reveal how old she was but with references relating to World War Two we believe she was probably 70-75, doing well compared to the Ugandan average life expectancy for females of 57 years.
We started the day by helping Anne to weed the field to enable young crops to grow. This was at about 08:30am and it was already unbearably hot.
We then went to see where Anne collected water from. The villagers took us to the 'well'. The term did not accurately describe what we saw.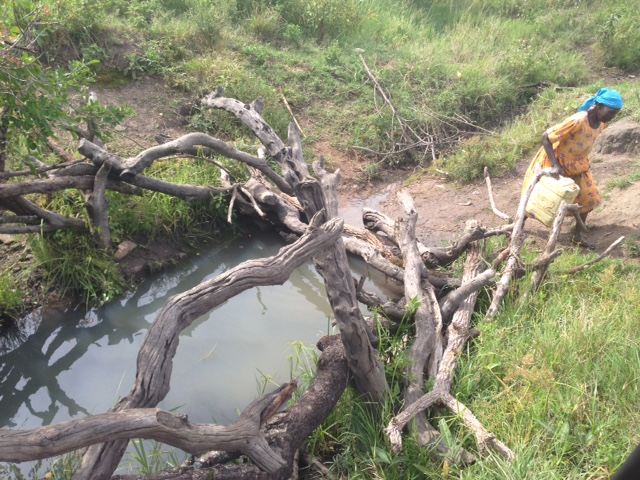 The well was a 'shared water source' which essentially means cattle and other animals also use the water to drink. The water was murky, muddy and simply just not safe. After giving a short interview for the WaterAid media team we filled our remaining jerry cans and returned the the village.
We then helped to wash the dishes with the water we had just collected from the well. Any bacteria from the water could then obviously pass to the plates and the food being prepared.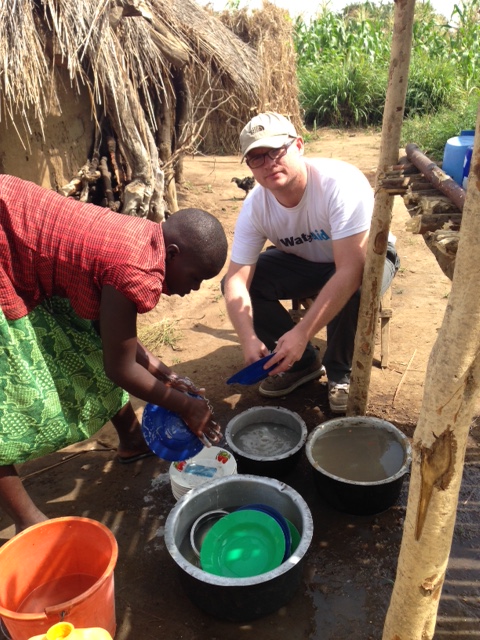 After our work was done we sat down with Anne, Moses and Conse to discuss what life was really like. Even though the villagers clearly have a difficult life they were so welcoming and happy to see us. I felt like I should be sad about what I had seen (and I was) but this was mixed by a sense of happiness the family brought despite their current situation.
We had lunch with Anne and her family. We ate sweet potatoes (a staple crop of the region), beans and 'greens' - a leaf which when cooked looks like spinach. We could only eat small amounts though as none of us wanted to get ill. After lunch we said goodbye to Anne's family and headed back to the jeeps for a short ride to the local school.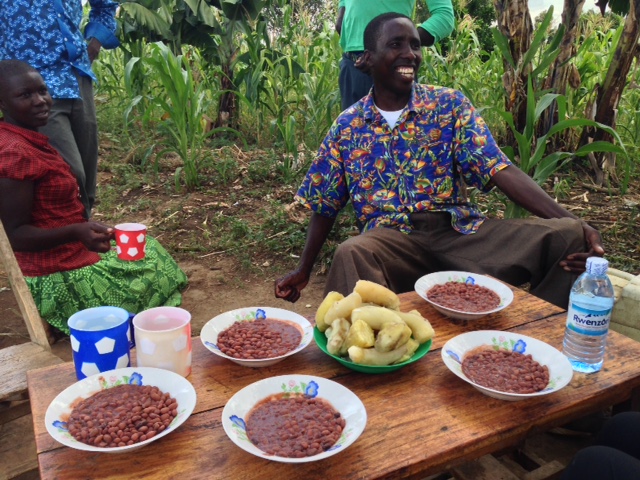 The local 'community' school (paid for by what little money the community have) gave us a huge welcome with a song which sounded great. We had some formal introductions and and the head master then told us about the school:
- Entirely community funded
- 400 pupils
- No access to water at the school
- Very basic latrine facilities
- Teachers live up to 6 miles away and do not live on site
- Little or no funds for educational equipment (pencils, chalk, sports equipment)
After the formalities we interacted with the children and teachers. We undertook some litter picking activities - the Ugandans take great pride in what little they have so maintaining a clean schoolyard was important to them. All of the rubbish is collected into a pit and then burned.
Following the litter picking we had a chance to play games with the children - some played football with a ball they had constructed from a banana plant, others including myself taught the Hokey-Cokey which the children loved, knees bent arms stretched ra ra ra! I thought we would just do a couple of verses but our group leader did the the song leaving us all completely shattered! We then said our goodbyes and headed back to the hotel.
On the journey home I had the chance to reflect on the day. The community had clearly done all they could with the funds and resources that they had, but will need some assistance to complete the journey to safe water and sanitation. WaterAid have thankfully planned to stage an intervention in this community next year so I am hopeful that something will be done to improve their lives.
Tomorrow we visit a community in Bobolo village which was helped by WaterAid in 2011 to see the difference the borehole and sanitation education has brought to the village.